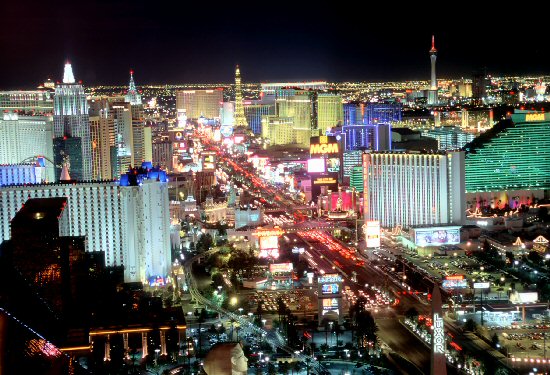 by Gamal Hennessy
When I started New York Nights, one of the things people told me was that the nightlife in New York was dead. The best clubs had come and gone. There was nothing new coming out of New York anymore. They said real action was in other cities. When I asked them which city had a better nightlife than New York, Las Vegas was always on the list. I was told the clubs are bigger, better and you can pretty much do anything you want. I decided to find out for myself. As usual, it pays to be skeptical. The truth is a little more complex than the hype.

Before

Before we even got to the club there were differences that I noticed immediately. First, you can buy tickets to most clubs on most nights in the comfort of your own home. The upside to that is that you have something a little more concrete to get you in than being on a New York guestlist, and you don't have to wait on line (New Yorkers hate waiting in line). The downside is that you have to pay upfront. If you're the type that likes to change their mind at the last minute, or walk into a club and then walk out again because it's not your scene, it's going to cost you. Club crawling can get expensive this way.
As we walked up with our tickets and skipped the annoyingly long line, I wondered if Clubplanet, or Going or Ticketmaster could sell tickets to New York clubs, the way they do for New Year's Eve. But the more I thought about it, the less it seemed like a good idea. I think clubs want to have a little more control over who gets in, whether it's a question of attire, sobriety or anything else. Randoms buying tickets online defeats that whole process.
The next thing I noticed as we took the cab down the strip was that nightclubs (like almost everything in Vegas) are inside of and associated with a hotel. That means that there is no hassle from community boards trying to shut the place down. People don't stumble out of the club onto a dark street surrounded by closed up businesses or outside someone's apartment. They stumble into a casino surrounded by lights, security and staff ready to get you a cab. It seemed to me that this arrangement created a supportive environment for nightlife to exist. Clubs probably don't have to fight for a liquor license or open up in an old warehouse. The city and the hotels see the benefit of having the clubs there and support them. Imagine that.
Once we started looking for a club, three more things became readily apparent. First the number of bars and clubs in Las Vegas probably runs between 200 and 350. While that is a considerable number, New York has roughly 1,100 by my estimates. Second, Las Vegas did have some clubs unique to the city, but if you want to hit 40/40, Coyote Ugly, Studio 54, Polly Esther's, and Tao, you don't really need the five hour plane ride. And third since Las Vegas is a tourist town, most of the clubs cater to a tourist clientele. Good luck finding a spot that's not overrun with them. The only one I saw was a place called Jet on Mondays. There was a huge billboard on our way from the airport that said "Jet Monday 'It's a locals thing'.
Um…I don't think locals need their spot broadcast on a billboard, thank you very much.
The young lady I escorted there for her birthday decided she wanted to go to Poetry, so that's where we went on Saturday night…